2018/06/18(Mon)
SOCOORE FACTORY 4th Anniversary 「The Delicates & Donny Love」JAPAN TOUR IN OSAKA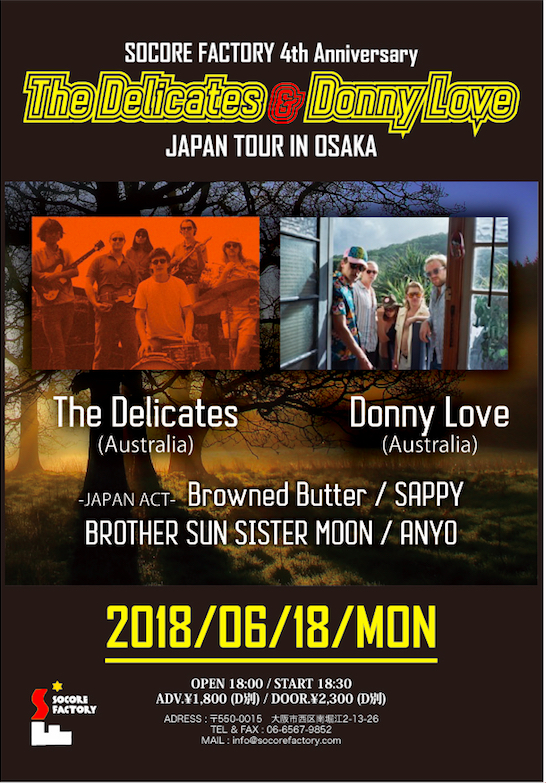 Act:
■来日アーティスト
The Delicates (Australia)
Donny Love (Australia)

■JAPAN ACT
ANYO
BROTHER SUN SISTER MOON
SAPPY
Browned Butter
Open:18:00 / Start:18:30 / Adv:¥1,800 (D別) / Door:¥2,300 (D別)
---
60s surf rock & modern cosmic experimentation, & naturally.
なバンド「The Delicates」
rock, jazz, new wave, pop and soul
「Donny Love」
のJAPAN TOURがここ大阪で開催決定!!
■The Delicates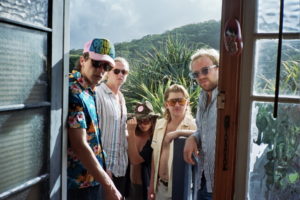 the-delicates.bandcamp.com
"These good friends & lovers gathered their fondness of 60s surf rock & modern cosmic experimentation, & naturally, formed a band. The Delicates, sounds much like an echo chamber of laid-back psychedelic pop that melts into powerful, yet dreamy vocals. Jangly guitars, seductive trumpet solos, melodic baselines, & space-age keys step gleefully into spontaneous tempos to conjure a wholesome sound. Since the mid-year release of their first EP 'The Delicates' — the band have been playing shows across the East Coast (including Brisbane's 'Gizzfest 2017' lineup), whilst recording their debut album which is set to be released this year. Ahead of the album, the band set out on their first Australian tour in April to celebrate the release of their 7" 'The Upside B/W The Downside'."
■Donny Love


donnylove.bandcamp.com
"Donny Love are nocturnal icons of the sunshine state and natural outsiders. They've spent several years now brooding and maturing, diligently studying their craft and carving out their own oddball sound which incorporates carnal elements of rock, jazz, new wave, pop and soul among other things.
They appear now and then to perform and release, and their live show has gained notoriety for its high energy and sensational qualities. After several singles, an EP, national tours, notable performances including Gizzfest 2017, and sharing stages with the Allah Lahs, Thee Oh Sees, Homeshake, The Growlers, Chastity Belt, Rolling Blackouts CF and The Creases, the band are ready to level up in 2018.
After releasing lead single 'Death' in late 2017, Donny Love are set to release their debut album 'Sensation' in May 2018. The album was recorded and mixed by Julian Abbott at NoWave Studio in Byron Bay and mastered by Paul Blakey. It celebrates the band's uncompromising curiosity and sweet and sour approach to songwriting. In May and June 2018 they are taking the album on a tour which will take them across Australia and through Japan. Make sure to catch their lewd musings over honky keys and punchy bass lines, poignant guitars and chugging drums, shrieking horns and silky saxophone. The Dons: Ron, T-Bone, Wonton, Hog and Bill cordially invite you to share a time with them soon."
■JAPAN TOUR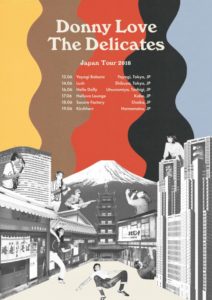 ---