2018/08/20(Mon)
LOSER presents

NOW YOU KNOW #2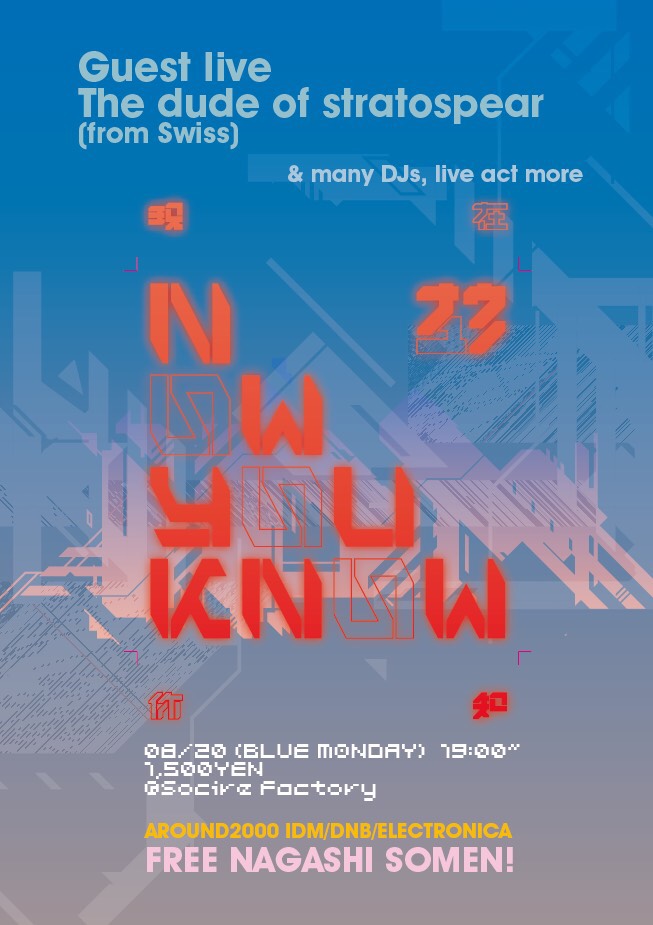 Act:
■Guest Live
The dude of stratosphear (From Switzerland)

■DJ
Telephone Bill Gates
prebreak1989
Andrew Hodge
designers banana republic
Sethrock
Sumio Iwase
B.C.
Dj0rdan

■Live
s33p & TOMMY DIGITAL
jonny kuroki

■Food
free somen killer

and more!
Open:19:00 / Start:19:00 / Adv:¥1,300 (D込) / Door:¥1,300 (D込)
---
New Party Coming ✨
I organizing this party
We remember around 2000 IDM/Electronica, Jungle , Drill'n'bass , Electronica Hip hop .
2000年前後の最高に新しかったIDM、ELECTRONICA、ドリルンベース、ジャングルの黄金期、当時を彷彿させるような変名で音にうるさいコレクターや各シーンでリアルタイムで活躍する皆さんが極上のIDM/electronicaを厳選してセレクトしたdj、ライブ出演していただきます。
今回は番外編。残暑バージョン。ジャンルの幅広げました。
フリーソーメン!
---